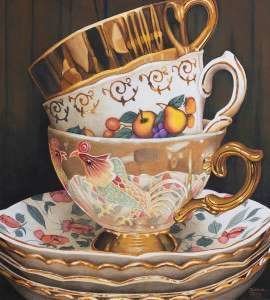 Diana has shown her love for something every household has with a wide range of china pottery art collections. The beautiful and differently colored images are mesmerizing. She has highlighted even the minor details making these paintings close to the real ones. Enjoy the beautiful Naturalism artwork collection by praising and appreciating every drawing you see on the website.
Famous Naturalism Paintings

This particular collection is all about pottery. Art lovers will see different colors and shades on the big canvas; the naturalism artwork is for sale in Canada for art lovers. From minor details to the major ones, you can see all in her paintings, and these attributes make Diana Roy paintings most sought-after. If you wish to add some different styles of famous naturalism paintings to your art collection, this Naturalism art movement collection can get you some.
Click here to Browse Naturalism Art